The Pemberly Suite | Illustrated Portrait Wedding Invitations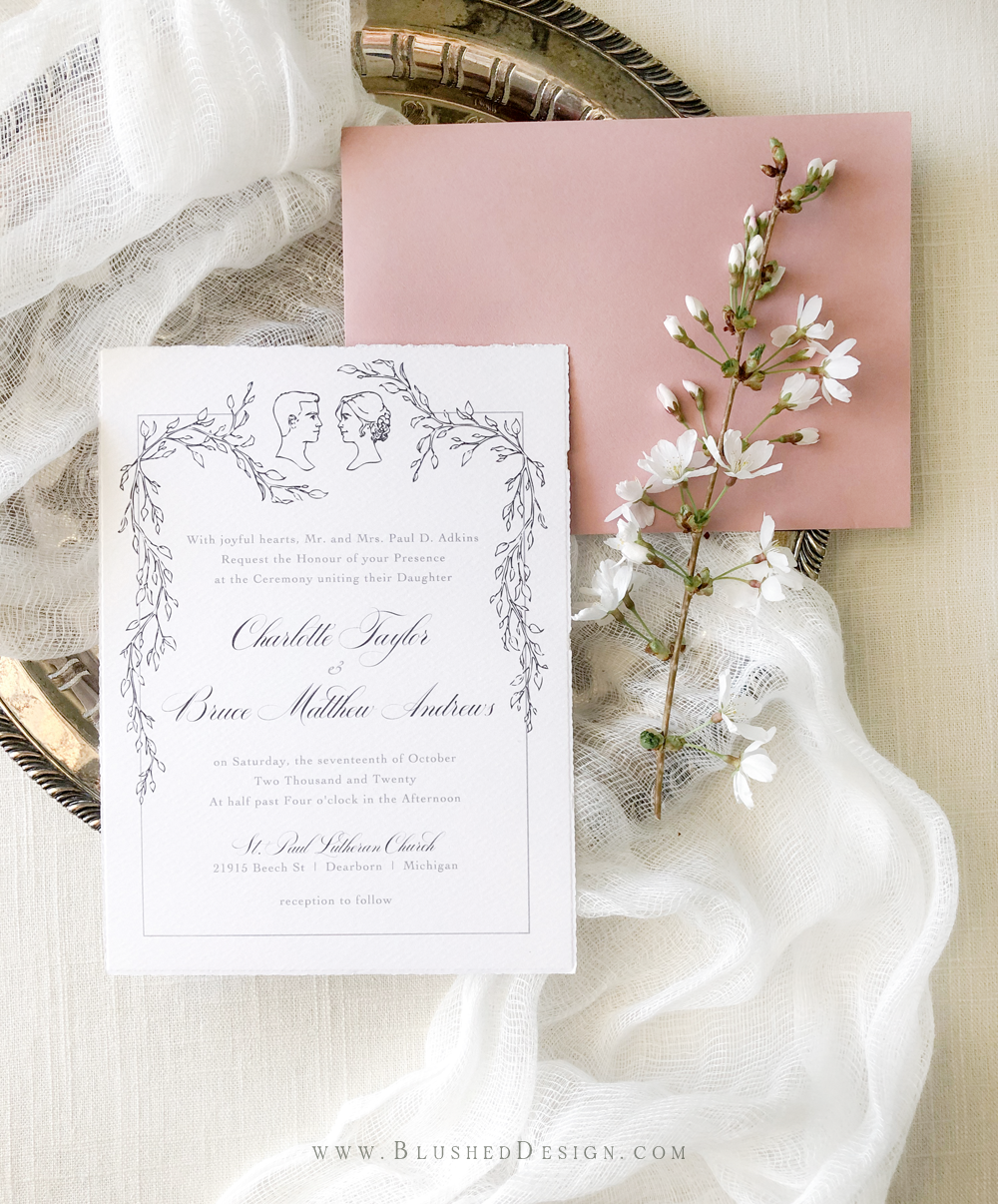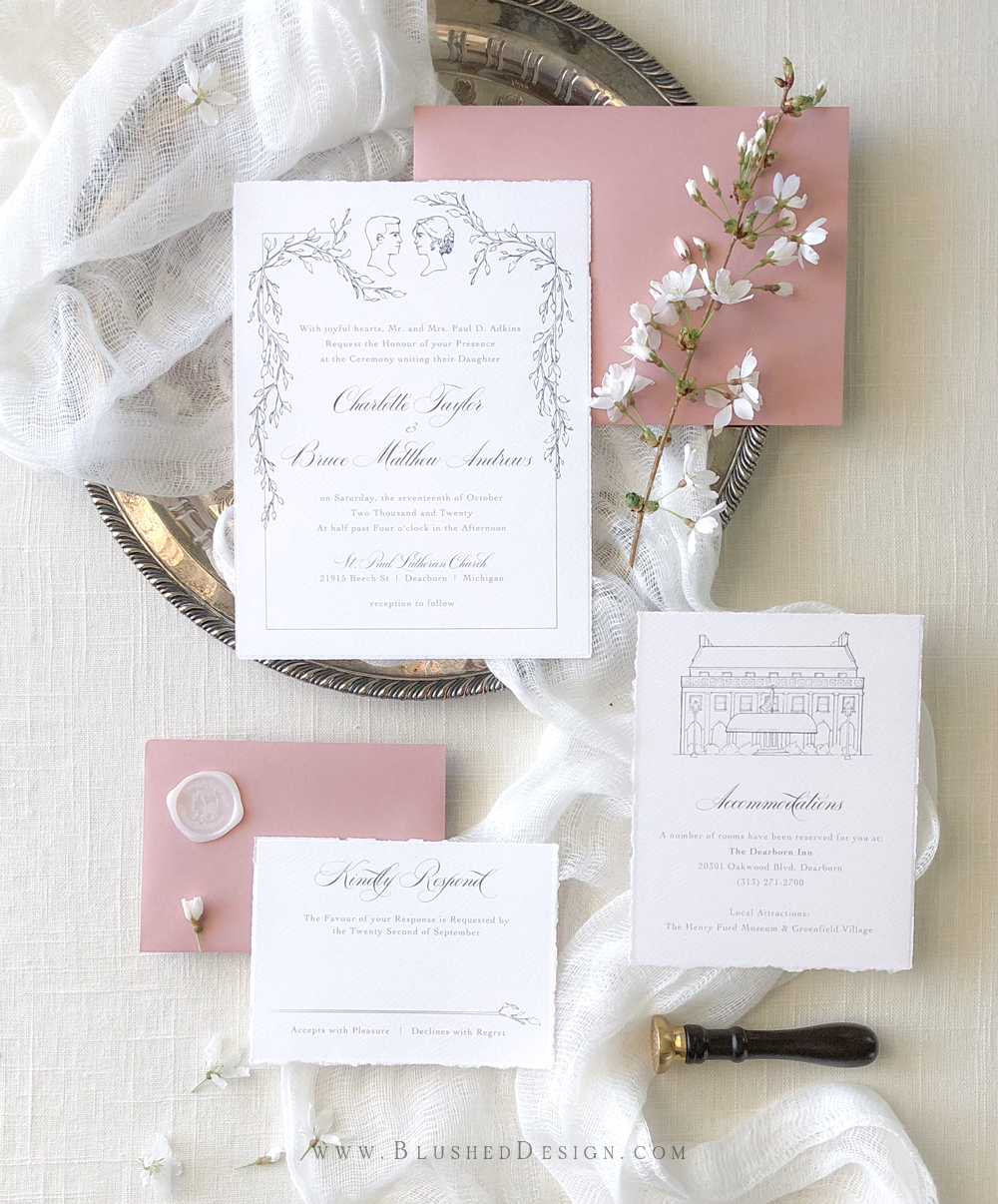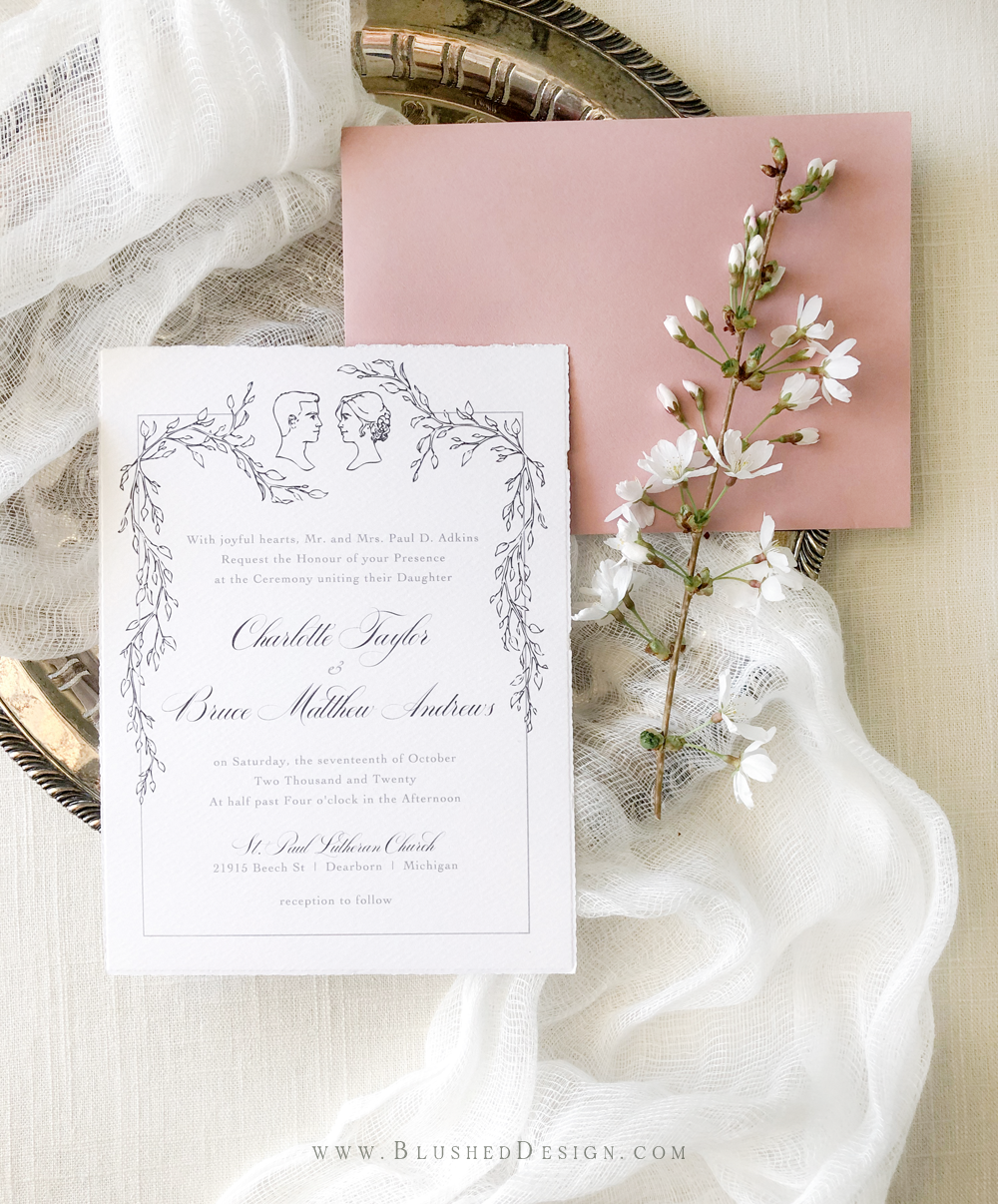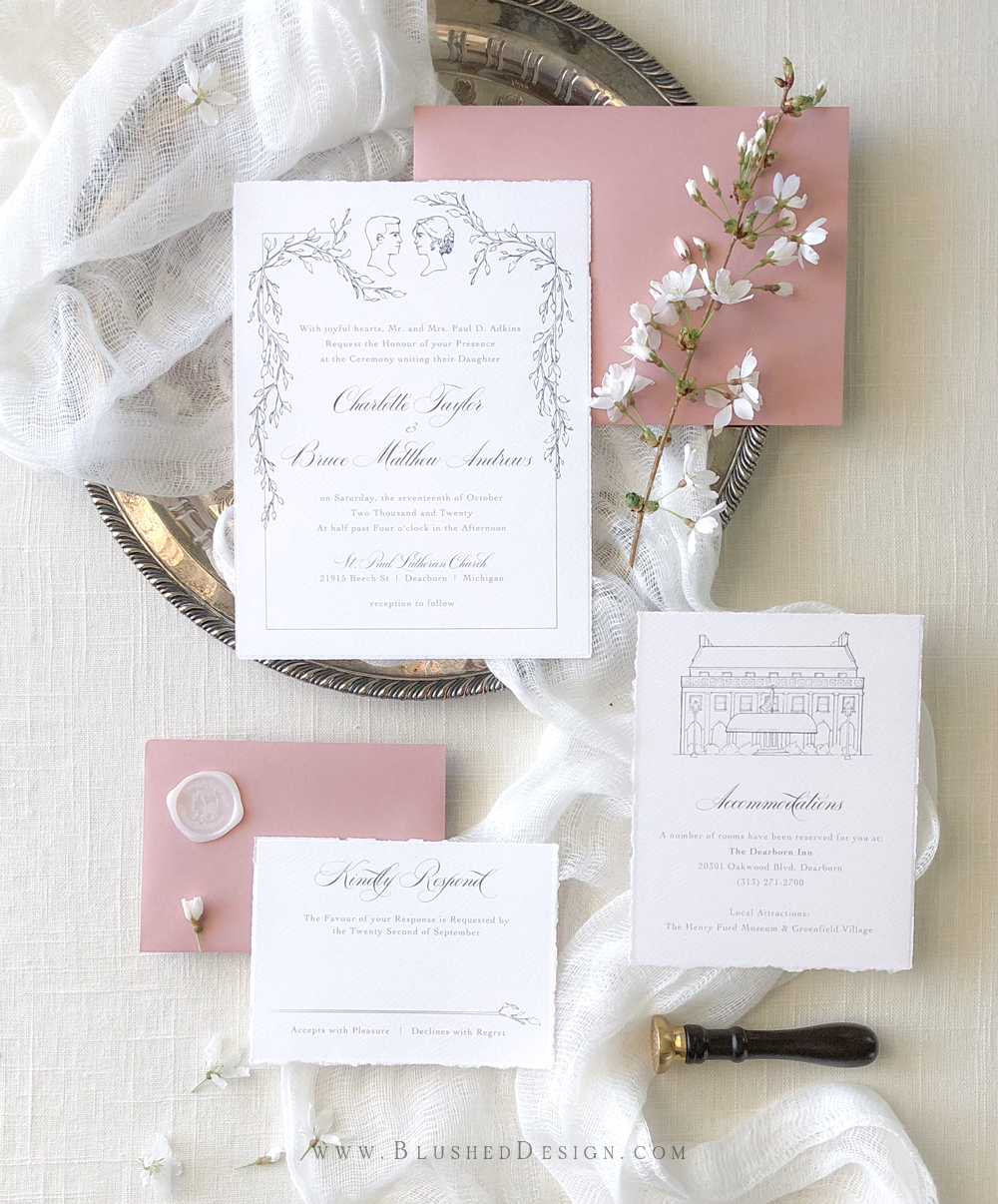 The Pemberly Suite | Illustrated Portrait Wedding Invitations
The PEMBERLY Suite is a Blushed Editorial Collection original, featuring an elegant pair of cameo-inspired portrait illustrations of the bride and groom. Your profiles are displayed with a careful illustration (shown), simple silhouette or replaced altogether with a classic monogram.

How To Order: (minimum of 50)
Select your paper type, printing method and add each item that you want to include into your cart. (add in one at a time)

You will be directed to a questionnaire that will help me customize your suite (more details below).

You'll receive your first proof within 2 business days!

Sit back and relax! I'll take care of the rest!

Customizable Elements for The Pemberly Suite:
Portraits can be switched out for a monogram

Venue illustration on the detail card

Paper type: 120lb Cotton, Handmade Paper (Italian Paper is currently unavailable)

Printing Method: Flat and foil

Color of illustration, text and envelopes (see images for more details)

Wording of the invitation itself

Embellishments: Envelope liners, addressing and wax seals are available to further customize your invitations.
Please review the Guide before your purchase
Frequently Asked Questions:
Q: How many invitations should I order?
A: One for each household, one for the photographer and planner (each) and at least one to keep. Then I recommend 10-15% extra for keepsakes, invitations that are lost in the mail (average is 3%) and additional guests.
Q: Is Postage Included?
A: No, postage is not included due to the custom nature of these designs. We recommend that you take your finished invitations to the post office (with liners, wax seals, etc. included) and have them weigh and tell you how much each postage they require.
Q: What is included in each suite? Postage? Liners? Etc
A: All the inserts include the printed insert itself and the envelopes (if applicable—no envelopes for detail cards) required. Add each item to your cart one at a time in order to build your dream suite!
Q: How much time does it take to get my invitations?
A: 2-5 weeks from purchase to delivery (depending on printing method and paper type)—please see announcement bar at the top of this page for additional details
Q: Can I purchase additional items, such as envelope addressing, envelope liners, wax seals, etc?
A: Yes, these items are available in the shop! Simply add them to your cart in the same way that you add the invitations—it is preferable that you checkout with everything at the same time to avoid multiple shipments.
Q: Can I customize the text to reflect our family circumstance?
A: Yes! The text shown in the pictures is simply an example. If no specifications are given in your questionnaire, then I will adapt your text based on my knowledge of etiquette and the style of your wedding
Q: Can I customize the suite beyond what is listed in the "customization" section of this listing?
A: Not likely, though it doesn't hurt to ask
Paper Sizes:
120lb Cotton Paper and Cotton Rag Paper:
Invitation - 5x7"

Response Card - 3.5x5"

Accommodation Card - 4.25x5.5"
Rossi Italian Paper:
Invitation - 6x8"

Response Card - 3.4x5.25"

Accommodation Card - 4.5x6.75"
** Images feature the Pemberly Colleciton in Cotton Rag Paper and the Italian Paper (Coming soon), with ebony envelopes, dusty rose envelopes, mid green envelopes and rose gold wax seals.
Photos by Katrina Crouch